Top 10 Amazing Products Every Cat Will Love.
Cats make for adorable pets. They can be naughty as well as highly annoying at the same time, especially with their shenanigans at full display. It is of paramount importance that your keep your pet cat happy and pampered all the time in order to give it a fulfilling life and derive maximum happiness that comes from having a pet at home. To make this happen, your pet cat needs to be dressed with the best and most comfortable clothing given the changing weather conditions throughout the year. Also, it needs to be spoiled with the best plastic toys so that it has the time of its life enjoying playing with them. Pets care campus is the online store offering the best pet cat paraphernalia that you might have been searching for. Below are 10 such amazing products sold by the online store that every cat will love, besides leaving the cat owner in complete disbelief.
Fancy clothing: Comfortable cat kitten clothes for your pet cat by Pets Care Campus includes raincoat for cat, cat costume pumpkin to name a few. These keep your pet cat nicely dressed and keep it warm and cozy. They ensure that your pet does not feel cold during winters and also stays in a very relaxed mood during summers as well.
Collars and Leads: Collars and leads by Pets Care Campus are meant to leash your pet cat so that it does not run around wildly causing people around it trouble. Pet cats are known for their erratic behavior which can cause a lot of inconvenience to people around it and these collars and leads made from high quality durable material ensure that your pet is not at discomfort while being nicely leashed and tied to an object.
Feeding and Water Supplies: Feeder bowls for cats by Pets Care Campus ensure your cat gets to eat and drink properly. The feeder bowls are designed in such a way that they stack cat food nicely and store water or milk in such a way that when your pet cat starts drinking, the liquid in the bowl does not spill onto the floor.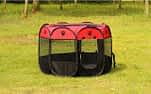 Cages and Crates: Cages and crates by Pets Care Campus will give to your cat the freedom it needs to come and go by its own will. All it has to do is slide through the locks on the bottom of the flap. Cages and crates are meant to be a resting place of sorts for your pet cat so that whenever it feels tired, it can simply rest and when active again gets to easily find its way out of the cage.
Grooming Supplies: Grooming supplies for your pet cat by Pets Care Campus include hair removal mitts, anti-scratch nail caps, de-shedding comb, toe claw clippers, claw nail scissors & cutters. Using these on your pet cat to groom it nicely will keep your pet always neat and tidy and account for an appearance that will make observers marvel at the kind of cleanliness it maintains.
Fences: Fences by Pets Care Campus for your pet cats keep them safely caged within a certain space guarded by the fence. The space is spacious enough for your pet cat to move around at the same time ensuring that it remains confined within a certain space and does not lose its way or start loitering around.
Playing Mats: Cats love playing mats, especially when they happen to be exquisite pieces with quilted edges with a thick bottom and of durable quality. Playing mats by Pets Care Campus are a result of compact workmanship. With a waterproof base layer to prevent water and urine leaking to the floor, the playing mats are eco-friendly and have high elastic foam with honeycomb for easy gathering of sands. The double-layered cat litter trapper in it trap litter from cat paws and the litter box and save cleaning time and sand costs.
Cat Litter Mat: The cat litter mat is made of EVA material, is super light and easy to carry as well. Its primary function is to trap litter from cat paws and from the box. In case your pet cat happens to be messy, the puddy pads in the cat litter mat has the ability to soak in excessive urine. Its super smooth surface does not bother cat paws like other mats do and the mat can also be cleaned easily under the sink head or shower head.
Cat Ball Toy: Your pet cat will be super intrigued by the playing chew toy EVA ball which can not only be bitten but rolled over as well simply with a swing of it paw. The cat ball toy along with the Funny Pet LED Laser Cat  can be some of the funniest and most enjoyable cat toys for your pet cat, which will certainly have the time of its life playing with them.
Need a better credit score to purchase a car, home or want to lower your monthly bills, then this service is for you.  Click > Credit Reversal Service
Comments
(4)
Leave a comment