Avoid Litter Box Drama
Avoid Litter Box Drama with These 6 Essential Tips for
First Time Cat Owners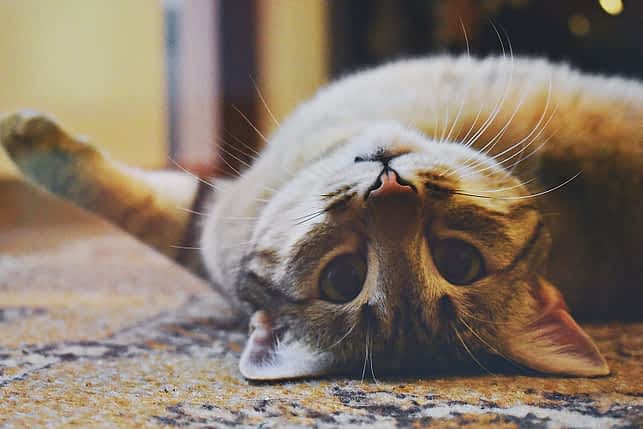 From buying the right cat food to litter box training, there is a lot more about owning a cat than first-time cat owners might think. There are many questions and considerations for first-time cat owners. How much food do they need? How often should we play? This quick guide from the Pets Care Campus blog gives you 6 ways to prepare yourself and your home for your first cat.
Litter Box
Let's face it—the litter box is going to be an uphill battle. If you want to curb your cat's messy litter box behavior, then training should be your top priority. The box should be big enough for your cat to do their business comfortably and have a mat outside to clean their feet. Most cats prefer a quiet, private place but also choose one that's convenient for regular clean up. Choose litter that is unscented and fine-grained. While it may seem like a lot of work, if you adopt more than one cat, most professionals recommend more than one box.
Healthy Treats
Giving your cat treats will strengthen the bond you feel toward each other. It's a good way to build trust and respect. Not all cat treats are created equal, however, so it is important you find ones that your cat not only enjoys, but that also keeps them healthy. That's why many cat owners choose to give their pets CBD treats. These treats are more like delicious supplements, helping to reduce anxiety and joint pain and boost their overall immune system.
Prepare for Scratching
All cats scratch. Period. It's actually quite important for their mental and physical health. Scratching reduces stress, trims their claws, and allows them to leave their scent. Protect your furniture from claws with a few good scratching posts that are tall and sturdy enough for them to stretch out on. You can also grab products to protect your furniture, like scratch guards and covers.
Be a Playful Partner
While your cat may not play outside or go for walks, that doesn't mean they want to be couch potatoes. Many first-time cat owners think they are easy pets, but cats need daily activity, and if they don't get it, they'll find something to hunt, like your couch, your shoes, or your ankles. Keep your cat happy by engaging them with interactive toys and vigorous play sessions.
Good Cat Food Saves on Vet Bills
Cats are obligate carnivores—meaning, the only nutrients they need come from meat. Most cat food is packed with wheat and corn, which many felines have a hard time digesting. Research a healthy food brand that's still within your budget or talk with your veterinarian to see what they recommend.
Pay Attention to Body Language
Cats most frequently use body language to communicate. Understanding these signals is the foundation for understanding your cat's needs. When your cat is afraid, you'll notice an arched back, flat ears, or a stiff tail. If they continuously hide or climb, they could be signaling distress or discomfort. Most importantly, cats will not show pain or illness, so you need to pay proactive attention to your cat's health. Notify your veterinarian if you notice any unusual behaviors or changes, like loss of appetite, incontinence, or hiding in an unusual place.
Becoming a cat parent for the first time is a very exciting and rewarding experience. Like all responsibilities, it does come with some important considerations that, if you don't understand them, could make the adjustment period harder for you both. Even one cat is a big commitment! Whether you grew up surrounded by cats or are opening your home for the very first time, check out the Pets Care Campus shop to gear up for cat parenthood.
Blog written by Jessica Brody
Comments
(10)
Leave a comment